Profile: John A. Havan
by R. S. Reyes
(Author's note: This profile was first published as part of the souvenir program for the Hombu Dojo goodwill visit of Masatake Fujita Shihan in February 1989. It had been written a couple of years earlier. The text was recently rediscovered and is published online for the first time here. Given the age of the material, some of the facts cited in the article have changed or evolved. These are cited via parenthetical remarks in the text. - RSR)
Aikido has been in the Philippines since the early 1960's, and in these nearly three decades
[As stated in the author's note, this article was written in the mid-1980's.]
it has seen many of its enthusiasts come and go. When the history of Aikido in the Philippines is written, a mere half-dozen names will stand out for their significant contributions to the growth of the art in this country.
One such enthusiast who came in the 1970's has now left the Philippine Aikido scene, but not before first leaving his mark on this community. His name is John Anh Havan (3d dan).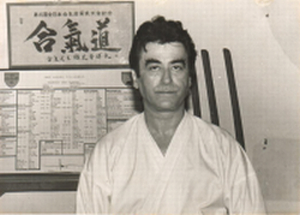 Havan's achievements in the Philippines live on in the organizations he founded or helped organize. He founded what is now known as the Shinbu Dojo Aikido Club back in 1981. Starting out with one student in a scruffy gym in Intramuros
[Kishi judo dojo]
, he gradually attracted a hard core of "first generation" students. These half-dozen are now 2nd dan Aikidoka. Shinbu Dojo currently trains at the Philippine Columbian Association in Plaza Dilao, Paco, Manila.
Not content with this achievement, Havan founded yet another group in February 1983, this time to serve the Makati area. This group is now known as the Makati Aikido Club, and it trains at the Makati YMCA on Dao St., San Antonio Village, Makati.
[The MAC has trained at Makati Sports in Salcedo Village since March 2007.]
Havan also worked hard to bring these two clubs into the orbit of Aikido's world headquarters in Tokyo. He had seen that one of the problems with Philippine martial arts in general (and Philippine Aikido in particular) was that it was often cut off from its roots: local students were frequently out of the mainstream of their arts, with significant segments of the enthusiast population being effectively out of touch with the intellectual currents and conceptual discourse that accompanies the growth of any body of knowledge. Too many students were learning their art in a questionable way - by reading books and replicating techniques and movements from photographs and videos, with no access to direct teaching from recognized masters. Aiming to address this, he arranged for the visiting Japanese senseis, who visit Manila every February, to include his two clubs in their itinerary. Since 1983, Aikidoka from both clubs have been taking Tokyo-sanctioned exams before Japanese masters sent by Japan Aikikai
[Aikido world headquarters, in Shinjuku, Tokyo]
.
Even more significantly, Havan worked to bring four separate Aikido clubs to unite in a loose federation called the Aikido Association of the Philippines (AAP).
[AAP is now defunct.]
Insisting from the start on staying in the background, he encouraged the four clubs to band together. The various leaders of these four clubs, themselves formidable martial arts men with solid followings, were persuaded of the advantages of working together, perhaps not so mcuh by Havan's pragmatic arguments, as by his obvious disinterest in "taking over" Aikido in the Philippines.
Havan the man is a character of almost literary dimensions. He read law at Oxford. He was national judo champion of Vietnam in his youth. He is a French citizen, but has not a drop of French blood. His father, a Vietnamese, was Finance Minister under the administration of President Ngo Dinh Diem. His mother is a British artist - a painter. Havan's wife, Irene - a striking Eurasian beauty - is the daughter of a former French Foreign Legionnaire.
[Irene Havan passed away in the late 1980's.]
Havan has two daughters, one of whom lives in Manila.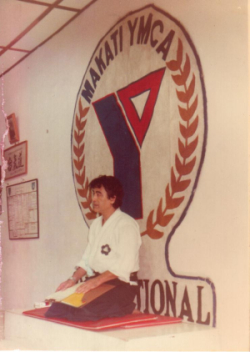 Havan was a boisterous and popular fixture of the European expatriate community during his Manila years. A favorite haunt was Guernica's, a raffish Ermita place that specializes in vigorous live Spanish music, and where the then heavily expat crowd was always in a state of friendly inebriation. There, after sharing his fifth bottle of Sangre de Toro around the table, he would insist to one and all that the piano player "is the spitting image of General Fabian Ver, don't you agree?"
[Fabian Ver was the much-feared and much-hated Marcos henchman during that time in Philippine history. This was in the waning days of Marcos's martial law, which lasted from September 1972 to February 1986.]
Occasionally, Havan would drag students to his Forbes Park home to show them his genuine
katana
, and to talk about traditional weapons and Aikido. Much lore was transmitted at those gatherings, but it had a cost. At some point, Havan would try to get his guests to take "just a little sip, come on!" of his "special" Chinese wine. It looked ordinary enough in a wineglass, until you glanced over at the bottle it came in.
There, like miniature submarines at anchor, just an inch off the bottom of the bottle, and wearing unforgettable expressions of serene bliss, floated six alcohol-pickled field mouse fetuses. It was a test of fortitude that many hardened Aikidoists failed.
In 1985, Havan moved to Singapore for work. Today, he lives in Bangkok, where he does a lot of Thai boxing.
[John Havan has been back in Manila since the mid-90's. No longer active in Aikido, he practices kick-boxing and teaches his own martial art, called Counterstrike.]
- rsr