2013 June 21 - 24: Seminar by Waka Sensei Mitsuteru Ueshiba
Details of the Makati Aikido Club 30th Anniversary celebration seminar on 2013 June 21 - 23, with Waka Sensei Mitsuteru Ueshiba and three other senior teachers. Click
here for the invitation and costs for Philippine-based participants
(
no lodging
) and
here for the invitation and costs for foreign-based participants
(
lodging and farewell dinner inclusive
).
Click here for a list of enrolled participants to the seminar so far. Registration is still open. Early-bird contributions (discounted) are accepted until 2013 April 30. Regular-price contributions are accepted after April 30.

To participate, click here to register online.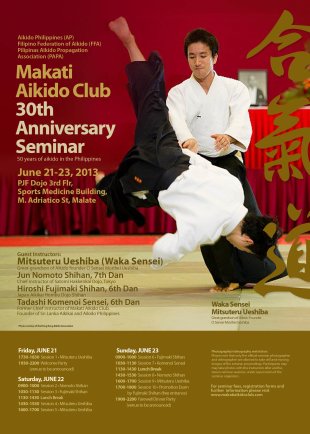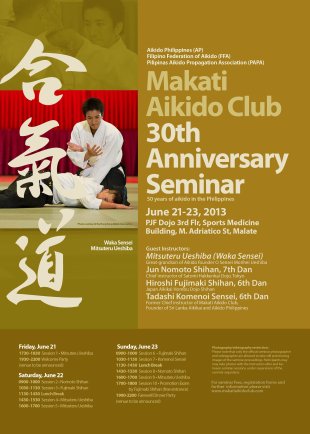 Click
here
to download a high-resolution copy of the above poster. Click
here
to download a high-resolution copy of the above poster.
The Makati Aikido Club will celebrate its 30th anniversary in June 2013 with a 10-session seminar to be led by Waka Sensei Mitsuteru Ueshiba, great-grandson of aikido's founder O Sensei Morihei Ueshiba.
Additional sessions of the seminar will be taught by Hiroshi Fujimaki Shihan, 6th dan, of Japan Aikikai Hombu Dojo's instruction staff; Jun Nomoto Shihan, 7th dan, chief instructor of Satomi Hakkenkai Dojo in Tokyo, Japan; and Tadashi Komenoi Sensei, 6th dan, former chief instructor of Makati Aikido Club, and founder of Sri Lanka Aikikai, and Aikido Philippines.
Black belt promotion examinations for qualified students will be given by Fujimaki Shihan of Japan Aikikai's instructional staff on the last day.
The seminar will be held at the PJF dojo, 3rd Floor, Sports Medicine Building - part of the Rizal Memorial Coliseum complex - at M. Adriatico Street, Malate, Manila. The seminar dates are Friday, June 21 to Sunday, June 23.
Special guest at the welcome cocktails and farewell dinner is Makati Aikido Club founder John Havan Sensei.
All aikidoists are welcome to take part. Inquiries? Please email macaikido@yahoo.com.
This event is a joint project of Aikido Philippines, the Filipino Federation of Aikido (FFA), and the Pilipinas Aikido Propagation Association (PAPA).
Photo: Sacred Heart Aikido Center of Cebu (SHACC) Photo: Sri Lanka Aikido Association