2014 April 24 - 25 Etsuji Horii Shihan in Manila (second segment in Davao April 26 - 27)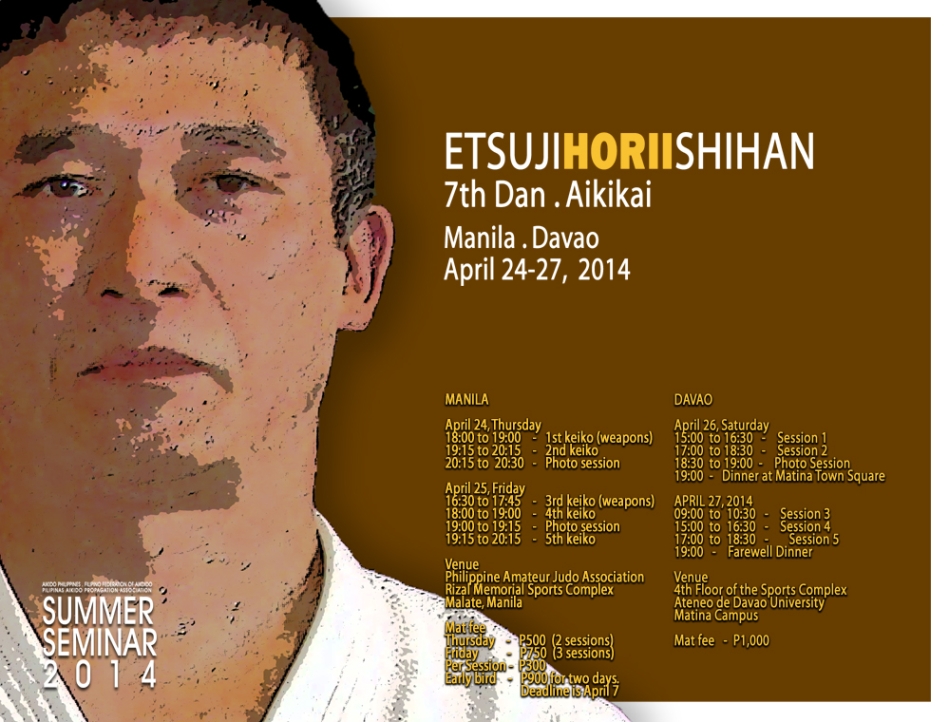 The above poster was revised on April 5th to reflect a new element: per-session pricing. All other details unchanged.
SEMINAR RULES GOVERNING PARTICIPANTS AND AUDIENCE MEMBERS:
1. PHOTO OPS: Specific times for photo ops with the shihan have been scheduled; see schedule of photo ops posted at various places in the seminar venue. Participants are never to personally approach shihan for photos at any other time, except during designated photo ops times. Respect the shihan's personal space and freedom of movement during seminar breaks. We are trying to promote a culture of considerateness and professionalism.
2. PHOTOGRAPHY/VIDEOGRAPHY DURING TRAINING CLASSES IS PROHIBITED: Only official photographer-videographers wearing official ID tags are authorized to take images during training sessions. All other camera owners are to stand down during training sessions. (Audience members and seminar participants are allowed to take pictures during breaks between and after class sessions, but subject to #1 above.)
3. YUDANSHA/MUDANSHA BOOKLETS are never to be handed directly to the shihan. Anyone wishing their booklets to be autographed are to submit their booklets to designated officers of the organizing federations. These officers will consolidate booklets for the shihan to sign at a time convenient for the shihan. The shihan will not accept yudansha/mudansha booklets from any but seminar organizers under any circumstances. This is in line with a culture of considerateness and professionalism.