2015 February 21 - 22: Yoshinobu Irie, 6th dan, in Manila
(THIS EVENT IS CONCLUDED. ALL MATERIALS RELATING TO IT ARE RETAINED FOR ARCHIVING PURPOSES ONLY.)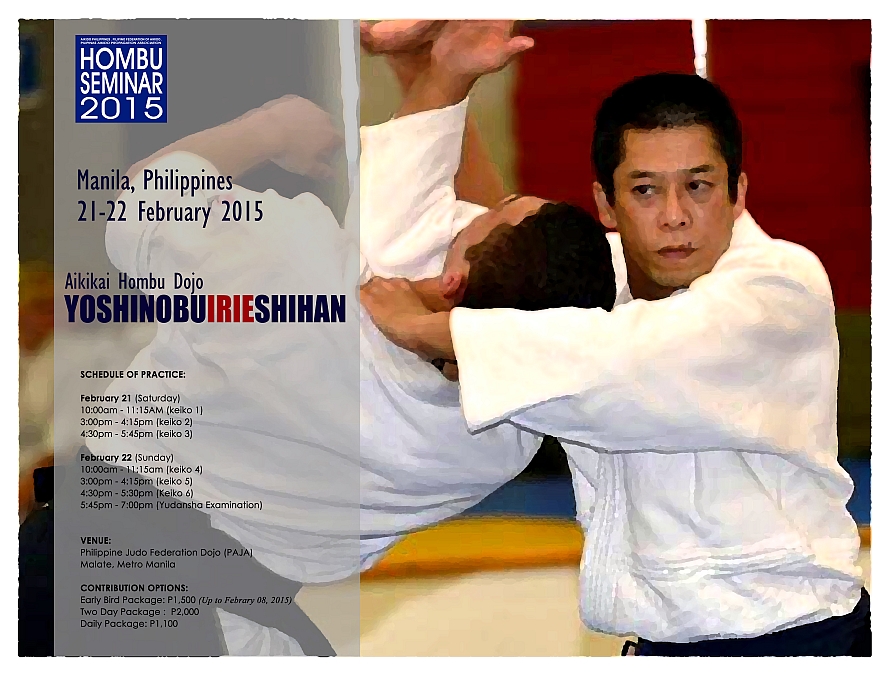 Yoshinobu Irie Shihan, 6th dan, of Japan Aikikai Hombu Dojo will lead the first Aikido seminar project for 2015.
Seminar dates will be Saturday, February 21st, and Sunday, February 22d. Schedule of classes is detailed in the event poster above.
Venue: PJF dojo, 3d floor, Sports Medicine Building, Rizal Memorial Coliseum, M. Adriatico Street, Malate, Manila (across Harrison Plaza mall)
Early bird contribution deadline is 23:59 hrs, Saturday, 2015 February 08 extended to 23:59 hrs, Sunday, February 15th, but with an increase of PhP100 over the contribution amount stated on the above poster. Please hand over your contribution before the deadline to your sensei or to any officer of the organizing committee. The event poster, above, details the contribution options other than the early bird option.
This first seminar of 2015 is a joint project of Aikido Philippines (AP), the Filipino Federation of Aikido (FFA), and the Pilipinas Aikido Propagation Association (PAPA).
Questions? Please email macaikido@yahoo.com or call Mr. Sebastian at 890-1976 or 77 (office hours only).