2016 February 20 - 21: Masatoshi Yasuno Shihan, 8th dan, at International School Manila
(THIS EVENT IS CONCLUDED. ALL MATERIALS RELATING TO IT ARE RETAINED FOR ARCHIVING PURPOSES ONLY.)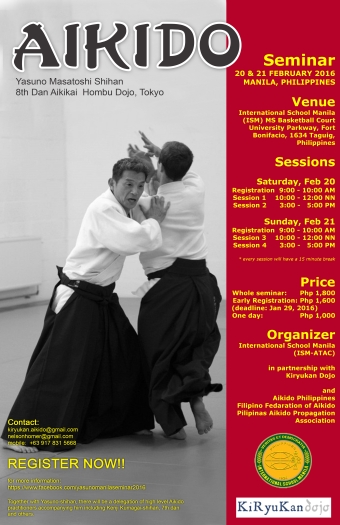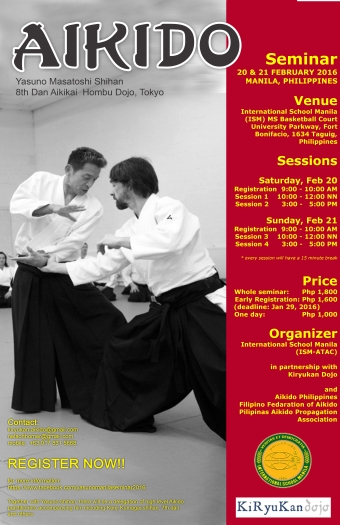 For security reasons, the International School Manila, venue host, requires advance registration, plus the plate number of any vehicle you are driving to the seminar venue. Please submit this info to your sensei at least one week before the seminar.
Click on the images to download.
Yasuno Shihan will also conduct a master class for black belts on Friday, 2016 February 19th. Venue and mat fee will be announced soon. Watch this space.
Opportunities to meet with Yasuno Shihan will be at lunch and dinner on February 20th and 21st; ask your instructors for details.
A delegation from Japan will accompany Yasuno Shihan (in alphabetical order):
Hironori Kawasaki, 7th dan
Kenji Kumagai, Shihan, 7th dan
Takahashi Watanabe, 7th dan
Shinzo Kojima, 6th dan
Akihisa Koyabu, 6th dan
Kiyoji Sato, 6th dan
Kunio Yoshinaga, 6th dan
Junichi Kamata, 5th dan
Yasunori Tachibana, 5th dan
Volkan Cakamackci, 4th dan
Daijiro Kumagai, 4th dan
Cauderan Ludovic, 4th dan
Okyuo Horibe, 3rd dan
Mie Sawada, 2nd dan
Yasunori Kubota
Noriko Tachibana