October 2012 Makoto Ito Sensei, 5th dan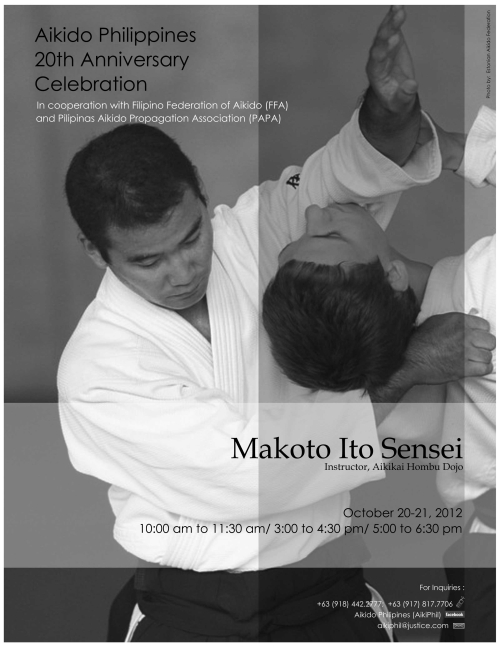 Poster by Aikido Philippines
All aikidoists and prospective students are invited to attend or observe a seminar with Makoto Ito Sensei, 5th dan, from Japan Aikikai Hombu Dojo. Seminar sessions will be on October 20 - 21. There will be three sessions per day, at 10:00 a.m., 3:00 p.m., and 5:00 p.m.
Venue and tuition will be announced soon. Please watch this space.
This event is in celebration of the 20th anniversary of Aikido Philippines, and is held in cooperation with PAPA and FFA.
Venue
:
Amoranto Stadium
Covered Badminton Courts A & B
Gate 3, Scout Chuatoco St. (near Roces Ave and Kamuning St.)
Quezon City
Class Times
:
(The following schedule supersedes the class schedule shown in the poster above.)
October 20 (Saturday)
9:30am-10:30am - Ito Shihan
11:00am-12:00nn - Ito Shihan
2:30pm - 3:30pm - Ito Shihan
4:00pm-5:00pm - Komenoi Shihan
October 21 (Sunday)
9:30am-10:30am - Komenoi Shihan
11:00am-12:00nn - Ito Shihan
3:00-4:30pm (Keiko and yudansha examination) - Ito Shihan
7:00pm - 12:00mn - Anniversary Party - @ Jade Valley, Quezon City
- Attire Semi Formal
Fees
:
Early Bird Fee (Until Oct. 15) - P900
Per Session fee is P200 except the yudansha examination which is P100 only.
Anniversary Party - P300
Souvenir Program - P100
You can pay the early bird fee, anniversary party fee and souvenir program fee to your senseis and dojo heads. You can also pay to Mr. Jobot Velasco.